MICHAEL BABAD
Harassment's toll
Workplace harassment in all its ugly forms is taking a heavy and crushing toll in Canada.
And women are suffering abuse more than men across all categories, a new study by Statistics Canada researchers warns.
Verbal abuse is the most prevalent, senior research analyst Darcy Hango and senior researcher Melissa Moyser said in their report.
Mr. Hango and Ms. Moyser based their study on the results of a 2016 General Social Survey on Canadians at Work and Home, when people were polled on five categories, including verbal abuse, humiliation, threats, physical violence and sexual attention or harassment.
Proportion of men and women who reported workplace harassment in the past 12 months, by type, 2016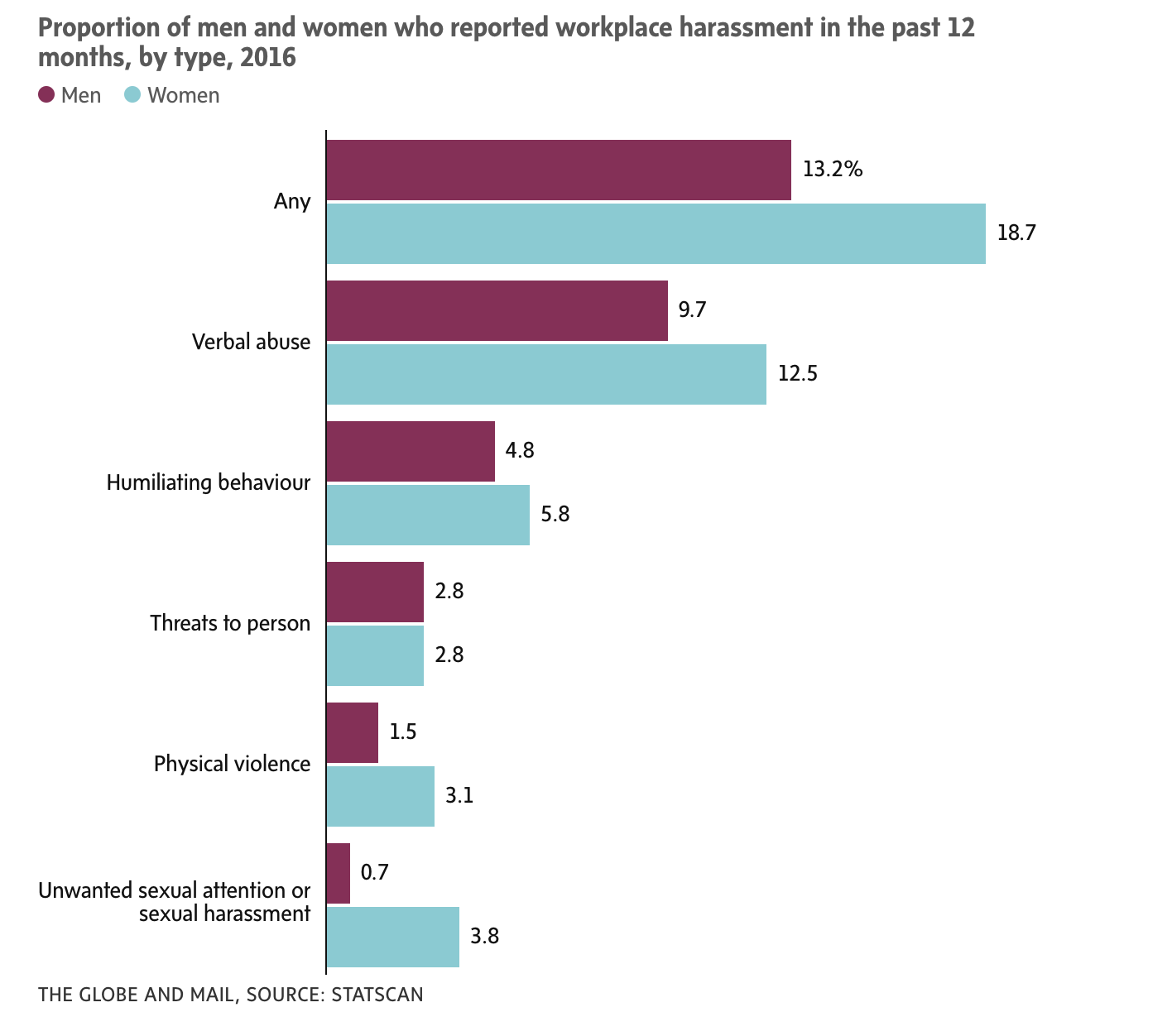 Among their findings:
One: Nineteen per cent of women and 13 per cent of men said they had suffered workplace harassment over the last year.
Two: Verbal abuse was most common, reported by 13 per cent of women and 10 per cent of men.
Three: Verbal abuse was followed by "humiliating behaviour," suffered by 6 per cent of women and 5 per cent of men.
Four: About 3 per cent of women and men said they were subject to threats.
Five: Sexual harassment affected 4 per cent of women, and less than 1 per cent of men. And among the women, the researchers said, "more than half were targeted by clients or customers."
Six: Health care workers were "most likely" to have been harassed, and "the differences between those in health and other occupations are more pronounced for women than men."
Seven: Almost half of the men and 34 per cent of the women harassed by a manager "had a weak sense of belonging" to their employer. That compared to 16 per cent among both women and men who had not been harassed.
Obviously, this takes a heavy toll.
"Workers who reported workplace harassment were more likely to be dissatisfied with their current job, have low motivation to do their best work, be more likely to say they are planning to leave their current work, and have a weak sense of belonging to their workplace," Mr. Hango and Ms. Moyser said.
"These workers also had worse health – general and mental – as well as higher levels of reported stress, and a less hopeful view of the future," they added.
"Harassment in the workplace therefore has a considerable impact not only on people's lives, but also on employers."