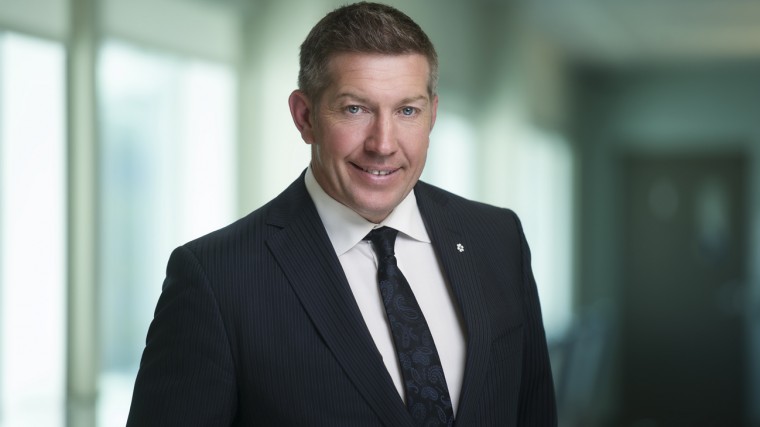 May 22nd, 2018
Sheldon Kennedy, Swift Current
Mark My Words — Allegiance shifts back to the Swift Current Broncos
The Brandon Sun – By: Mark Frison
Posted: 05/18/2018 3:00 AM |
This week we all cheer for the blue and green
Let's go, Broncos! Let's go, Broncos!
This is something I haven't chanted in more than eight years.
From 2005 to 2010, I had the tremendous pleasure of living in Swift Current, Saskatchewan. The smallest community I've ever lived in, "Speedy Creek" was vibrant, egalitarian and artsy — not really how most people think of the place.
Admittedly, when I was moving to Saskatchewan in 2004 from Nova Scotia, I was not fluent with all of the cities in Land of the Living Skies. I knew not of Humboldt, Kindersley, or even Yorkton — the fifth largest city in the province.
I did know about Swift Current. Because of the Swift Current Broncos. Because of the 1986 bus crash. Because of Graham James. Swift Current was long the smallest community in the country with a major junior hockey franchise. It was a storied one at that captured the Memorial Cup in 1989.
Moving to a town of 15,000 people, our family decided to buy season tickets for the Broncos. What else would there be to do in such a small town? Well, lots. In fact, that first year, we only made it to four games out of 36. Broncos games were great, but I underestimated the rest of the scene in Swift, the demands of becoming a college president at age 34 and the responsibilities associated with a newborn. OK, so I may have been naive on many fronts.
When I came to Assiniboine in June 2010, one of the first questions I was asked by a journalist was "So, are you going to give the Wheat Kings a fair shake?" When that is the third question the media ask you about a new job, you know you are coming to a hockey town.
I indicated I would be an immediate Wheat Kings fan. I was and I never looked back. I did, of course, indicate that the Riders were non-negotiable. But that's a column for a different day. #GoRiders!
Nevertheless, this week I will find myself cheering on the Broncos with renewed enthusiasm as they represent the WHL in the Memorial Cup. It is not solely attributed to my affection for Swift Current or that I was a four-year season ticket holder (even if I had a poor attendance record).
The bus crash a few weeks ago, killing 16 team members of the Humboldt Broncos, has touched us all. As saddened as I am by that tragedy, I am constantly uplifted by the compassion I have witnessed across Manitoba communities for the players, families and communities affected by this event.
The Humboldt Broncos were, of course, formed from a partnership with the Swift Current Broncos, which included supplying jerseys, and the name of the team was set
It is difficult not to be reminded and draw parallels to the Swift Current Broncos bus crash of 1986. When I was living in Swift Current in 2006 we marked the 20-year anniversary of tragic events there. Many in the community lamented that we had not, up until that point, properly marked or dealt with the events during those 20 years.
We know that one important reason was the influence of then-Broncos head coach Graham James. He refused to let players receive counselling for fear that his unthinkable acts of abuse might be exposed.
Fortunately, Graham James was eventually exposed. Among those who had the courage to expose him was Elkhorn's own Sheldon Kennedy. Sheldon has been a tireless advocate for victims, a champion for a new era in sports and a general inspiration to those who have suffered hardships and found the strength to pick themselves up and channel that experience in the service of others.
Those are among the reasons I'm thrilled that Assiniboine is recognizing the Brandon-born hockey star and advocate with our second annual Courage Award this October. The Courage Award was created by the college to celebrate leadership – with the hallmark of leadership being courage.
We wanted to be able to amplify for Manitobans the great courage we see all around us in its many forms. Last year, we recognized Don Penny, whose business acumen and appetite for risk led to the growth of a Westman-based accounting firm into the fifth largest firm in Canada — and growing. This year Don and Grand Chief Sheila North, a treasured Assiniboine alumna, will help us recognize and thank Sheldon for his efforts.
As a result of the events in Saskatchewan, we decided to delay announcing that Sheldon was our second recipient. Sheldon was a passenger on that Swift Current Broncos bus crash in 1986. In keeping with his character, he was quick to be on the scene comforting victims after this year's bus crash. Sheldon would not have wanted recognition of him to distract from where the focus was needed at that moment.
So, this week I will once again be cheering for the Broncos. Not just because I'm a former resident. Not just because I'm a four-time season ticket holder. Not just because I love that an underdog team from the smallest market in the country can triumph over the money of big-market teams to succeed.
But because I want so very badly for them to win for their Humboldt brethren who share their name and their tragic experience. A Memorial Cup will not bring back the lost lives, but it may be a bit of salve for our wounds. It will contribute to my faith in people that grew every time I saw a hockey stick on a doorstep, a group of kids raising money to help families, or the number of times I saw a social media account of some effort in a far-flung corner of the planet to support #HumboldtStrong.
Let's go Broncos!
Mark Frison is president of Assiniboine Community College.
» Twitter: @markfrison
» Mark Frison is president of  Assiniboine Community College. Twitter: @markfrison