Creating Belonging through Considering Intersectionality
Written by Andrea Carey, CCIP and Founder of INclusion INcorporated
We want to begin by acknowledging the generosity of the three panelists who shared their stories to
spark this discussion – Joy Spearchief-Morris, Cindy Ouellet, and Zoe Robinson. We also want to pay
tribute to the Re-Creation Collective who is a group of academics and practitioners who are reimagining
sport from the margins. Thank you to Respect Group Inc. for their generous support of this session and
their commitment to creating safe spaces.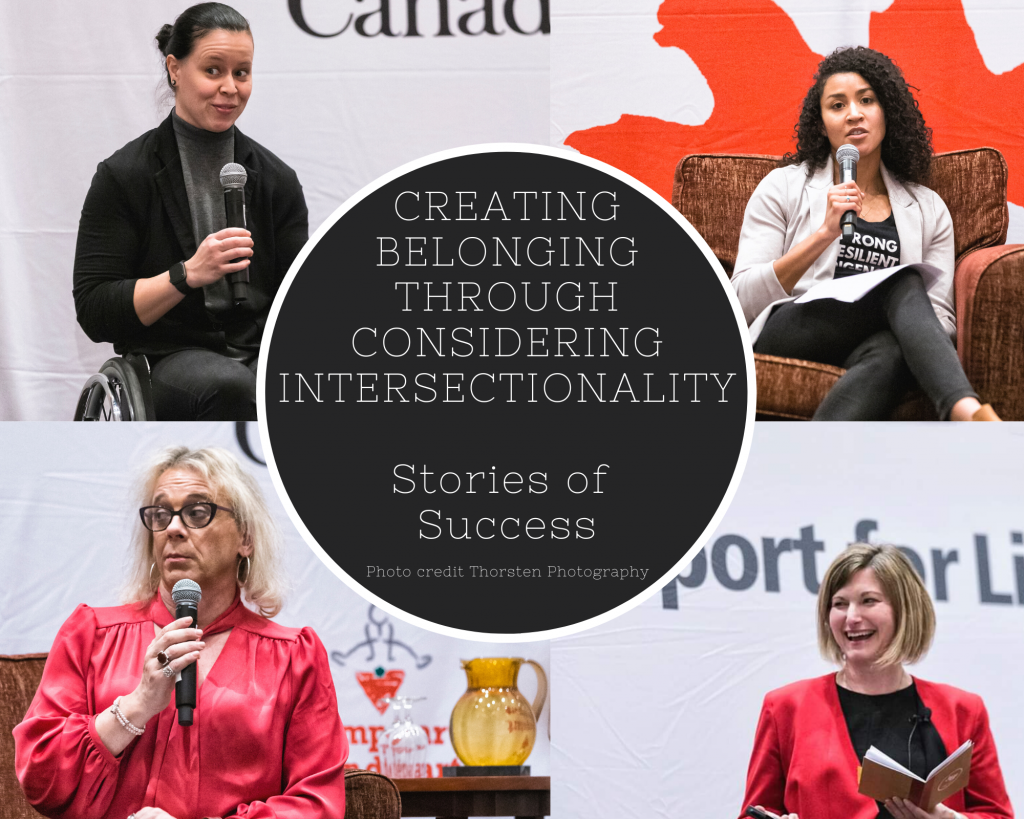 Intersectionality has become a term used often in the diversity and inclusion space. It is often used in a
way to articulate the overlapping facets of diversity – which is part of the story, but there are a variety of
opportunities to appreciate the power of the term that was first coined by Black feminist Kimberlé
Crenshaw.
Intersectionality is defined as the interconnected nature of social categorizations such as race, class, and
gender as they apply to a given individual or group, creating overlapping and interdependent systems of
discrimination or disadvantage. They do not exist separately from each other but are interwoven and
linked together. It is meant to articulate the overlapping systems of oppression that are faced by those
who are in marginalized positions – either by social determinants of health, geography or facets of their
identities.
I recently had the opportunity to showcase a panel of incredible women who have diverse intersections
in how they identify. A Paralympian in winter and summer sport who is a PhD candidate, a
businesswoman and gay. A Black Indigenous Master's degree student who is a high-performance
athletics athlete aiming for a spot in this summer's Olympics. A trans woman who is a former CEO of a
National Sport Organization and is navigating the world as a woman after 54 years living as a man.
This group of strong, successful women joined me to share their stories of success and to share what
they need to find success in new situations. The theme was to create people and participant-centered
approaches. We focused on how to support people to have positive experiences in the spaces and
places where they are.
We offered up six principles of creating success in participant/people-centered approaches and we
solicited input from the audience to share how they would live these in their organization. Here is what
the group of over 400 sport, recreation, education and health leaders came up with:
Inclusion would be lived by always having a growth mindset. We agreed that inclusion starts with the
people you are trying to serve, so there must be a focus on hiring the community you serve.
Organizations should be open to policy development and implementation.
Respect would be lived by understanding that everyone is on a unique journey and embedding in the
team culture for all to follow. Respect should be included as one of the organization's values. Every
human being deserves to be respected.
Right to Privacy would be lived by asking permission to share (opt-in or opt-out) and provide options for
level of sharing (what are you sharing), to who and how. This should not be in the small print! There
should be options to limit information on the website for registration to keep it protected.
Private information of members shouldn't be shared when communicating with other departments of Regions/PSO/NSO.
Dignity would be lived by meeting the participants at the place they are at so they can engage in
different ways and levels, and by being the example and treating everyone equally with respect. Anyone
should be able to do the sport they want even if they have obstacles, and a clear and transparent
selection criteria and appeal processes need to be in place.
Openness would be lived by sharing our cultural experiences often at the office, including the
community in the process for designing, implementing and evaluating sports programs by giving them a
seat at the table.
Allyship would be lived by identifying ability, compassion, and heart by advocating and providing
support. We agreed to wait until you are invited in, and not to make promises. When it comes time to
act, don't say you'll do it, say when you'll do it. We should create working groups and support
spokespersons from marginalized groups.
Compassion would be lived by leading by example.
Safe would be lived by applying for funding to create a safer physical space (ex. changerooms) in
infrastructure where all participants/officials/staff feel supported, welcomed and safe. Training should
be provided to key influencers, coaches, boards, volunteers and parents open conversations should be
hosted that set the tone that respect is expected. It's important to co-create norms and expectations
that will be commonly understood by the entire group, and to train athletes, coaches, volunteers,
administrators; developing awareness within your sectors. Through opportunities to share our stories,
and to examine the different needs of the people in the spaces and places so that we can better plan to
support the many diverse people who will be part of our programs or who deserve to be included but
haven't been planned for properly yet.
The opportunity of this dialogue to look at how leaders of the sport, recreation, health and education
organizations in Canada can be intentional about planning for the people, the participants who are at
the core of what we do in delivering sport and physical activity experiences. We can consider how these
eight principles could come to life in your organization, and to build that into how you operate going
forward.